Tuesday, August 32, 2010. Today I am grateful for the bumblebee. Aeronautical engineers have determined that it cannot fly. Its wings are too far forward and too small and the resultant weight and balance problem means it would fall to the earth, backwards, if it attempted to fly. Here's the good news! No one told the bumblebee!
Bumble Bee
3 min – 18 Apr 2006
Uploaded by MidnightMoonlight
www.youtube.com
I have taught new and seasoned teachers who are trying to learn new ways of helping kids to learn more successfully: "Go into your fear and just bumble through. Persist. You'll feel foolish at first and fail at first. And then . . .  success."
One teacher reported: "If Dr. Meek hadn't told me I would fail [at first], I would not have kept trying. My class failure rate has gone from way high to way low in just one year's time."
Here's to bumbling, persisting in the face of failure, and learning new ways along with our students and children!
Doc Meek, Tuesday, August 31, 2010, at Sherwood Park, Alberta, CANADA
P.S. Thank you Anita [my older sister] for preparing a family dinner today for the extended family! I am grateful for you and your service to the whole family and to many other people as well, over many years.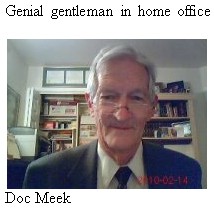 J. Collins Meek, Ph.D. (Doc Meek)
"What if you are smarter than you think?"
Learning Specialist https://docmeek.com
For brain health, ensure heart health (short video):
http://www.amiraclemolecule.com/themeekteam
More on heart health http://www.themeekteam.info
Ph (801) 971-1812 (Jeannette); Fax [801] 282-6026
THE LEARNING CLINIC WORLDWIDE, INC.
CANADA: P.O. Box 3105, Sherwood Park, AB T8H 2T1
TONGA: Mele Taumoepeau, P.O. Box 60, Nuku'alofa
USA: 3688 W 9800 S, #138, South Jordan, UT 84095
=======================================