Saturday, August 14, 2010. Today I am overwhelmingly grateful for Dr. Toril Jelter, a pediatrician who is intensely focused on the improving the health and minds of our children. This is what THE LEARNING CLINIC WORLDWIDE has been advocating for years. – Doc Meek
Dr. Toril Jelter's website is: http://www.drjelter.com
Biomedical Evaluation and Treatment of Autistic children
Today evidence-based medicine shows that:
Autism is a medical disease, not a psychological disorder.
Autism affects other body organ systems besides the brain.
Autism is Treatable; Children Are Recovering
From Dr. Bryan Jepson's book "Changing the Course of Autism"
"Biomedical treatments help the majority of children with autism, particularly if started early. The cornerstones of this treatment are dietary changes, supplementation and detoxification. Addressing medical issues and pursuing therapies simultaneously offers autistic children the best long-term outcome."
If so, you have probably combed every corner of the internet, literature and magazines for information about autism and available treatments. While medical science has so far not discovered a cure for this complex disease, there are fortunately many things you can do to halt its progression and in some cases even reverse its course. Until recently autism was considered to be a genetic disorder which caused a life-long developmental disability. That is changing. Today scientists realize that in most cases it is a complex interaction between genes and the environment. Understanding this is critical to treating your child.
Dr. Toril Jelter is a board certified pediatrician specializing in medical and environmental aspects of autism. She received her medical degree from the University of Oslo, Norway graduating with honors in 1985. Dr. Jelter's pediatric training was at Columbia University College of Physicians and Surgeons. She is affiliated with John Muir Medical Center and has received a physician recognition award for continuing medical education.
Dr. Jelter has participated in Defeat Autism Now Training and is a fellow of the American Academy of Pediatrics.
"My goal is to improve overall function for each child in the safest, fastest and most affordable manner possible" Dr. Jelter
Toril H. Jelter MD FAAP
37 Quail Ct. Suite 201
Walnut Creek, CA 94596
Call anytime!
phone: (925) 788 8904
fax: (925) 947 1075
Mailing Address:
1250-I Newell Ave. PMB 148
Walnut Creek, CA 94596
At this time, we do not accept insurance or medicare. We provide a receipt that you may submit to your insurance. Most insurance companies will reimburse at least partially for medical diagnosis. 2% of all proceeds are donated to autism research.
email: drjelter@gmail.com
see also: www.autism.com – The website for the Autism Research Institute ……………………………………….
Thank you, Dr. Jelter!
Doc Meek, Saturday, August 14, 2010, at Nose Hill Public Library in Calgary, Alberta, CANADA
——–
J. Collins Meek, Ph.D. (Doc Meek)
"What if you are smarter than you think?"
Learning Specialist https://docmeek.com
For brain health, ensure heart health (short video):
http://www.amiraclemolecule.com/themeekteam
More on heart health http://www.themeekteam.info
Ph (801) 971-1812 (Jeannette); Fax [801] 282-6026
THE LEARNING CLINIC WORLDWIDE, INC.
CANADA: P.O. Box 3105, Sherwood Park, AB T8H 2T1
TONGA: Mele Taumoepeau, P.O. Box 60, Nuku'alofa
USA: 3688 W 9800 S, #138, South Jordan, UT 84095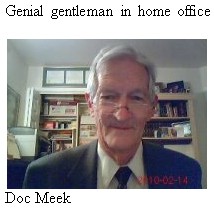 ====================================
2 Responses to "Dr. Toril Jelter, a fighter for children's health"