Monday, October 4, 2010. Today I am grateful for Donna Wheatcr0ft and her Virtues Project.
Donna Wheatcroft
Owner, manager at Hearts Work
You still have time to register for the last Calgary Virtues Project workshops of 2010. (registration form below)
A Virtues Project Workshop is of interest to anyone who wishes to create healthier and happier lives: health care professionals ~ youth, family and social workers ~ counselors ~ justice system workers ~ educators ~ organization, community and workplace leaders ~ parents ~ and individuals/couples/families.
Thank you kindly for considering this email and then forwarding it to others who may be interested.
CREATE A HIGH-PERFORMING LEARNING COMMUNITY
Learning the five simple strategies of The Virtues Project™ helps us to live kinder and more purposeful lives, to raise children of integrity and compassion, create a culture of character and caring in our schools, and inspire excellence and ethics in the workplace.
Results of the Five Strategies of the Virtues Project ™Five Strategies of the Virtues Project
Cultivates a positive, shared, common language to recognize, acknowledge and encourage the best in all of us.Speak the Language of the Virtues
Appreciate our strengths – the virtues, and identify our growth virtues. Helps us discern the good or helpful or right thing to do. Recognize Teachable Moments
Makes what we do fair. We know what is expected of us, and what we will tolerate in others for safety, and better relationships.Set Clear Boundaries – restorative justice and making amends.
Respect, value and appreciate the dignity, uniqueness and nobility of each person – the basis for personalized learning.Honour the Spirit (What lights us up and moves us?)
Supports moral choice and peaceful conflict resolution. This process is a powerful tool for healing in grief, anger, and trauma. Offer the Art of Spiritual Companioning™(companioning or "walk-along")
Visit
www.virtuesproject.com to learn about 52 virtues, the five strategies for using them and more…
ENCOURAGING THE GROWTH OF CHARACTER
results in better communication, quality leadership and teamwork, and more satisfying relationships. There is convincing evidence that virtues are foundational to our happiness and health. They positively impact our mental, emotional, spiritual, physical and social well-being. We experience renewed motivation and vitality. The result is enhanced learning and engagement. When integrated into school programming, students feel safer and less stressed. Discipline incidents decrease. Achievement, attitude and attendance improves.
2-Day Introductory Workshop ~ Awakening the Gifts of Character: In this workshop, emphasis is on experiential and interactive activities to learn the practical application of the five strategies of The Virtues Project in our lives. (a prerequisite for 3-day)
October 5/6 (2-day) evening/day workshop eve 5:30-9:30 p.m., day 9:00 a.m.- 5:00 p.m.
November 1 & 2, Mon. &Tues.: 2-day introductory workshop 9:00 a.m. to 4:30 p.m. each day
3-Day Facilitator Programme ~ Deepening in the Virtues:
For those who wish to deepen in The Virtues Project™. Bring out the best in yourself and others. Learn to live to your highest values. You will have the     opportunity to work on a presentation to facilitate in your school, workplace, the community or with families.
November 3 to 5, Wed. to Fri.: 3-day workshop 9:00 a.m. to 4:30 p.m. each day For further information contact Donna: Phone/Fax 403-282-1343
heartswork@shaw.ca
Presenter:
Donna Wheatcroft (B.Ed), Virtues Project Master Facilitator. A long-time teacher, I now facilitate this simple, effective, strengths-based, positive and pro-active programme in schools, homes, workplaces and communities in Calgary, across Canada and internationally.
Fee: $250 for 2-day (prerequisite for 3-day) $450.00 for 3-day. Add $75 for the Facilitator's Manual CD to the 3-day or 5-day payment (fee includes lunches, snacks and materials). Virtues Project books and resources will be available for purchase at the workshops. The Educator's Guide and/or The Family Virtues Guide are required for the Facilitator Program. When you have registered and paid you will be sent confirmation. Your receipt/invoice will be available at check-in.
Location and directions:
www.fcjsisters.ca/fcjcentre/ – a serene setting on the Elbow river in the middle of the city with free parking (for affordable accommodation email them directly)
Method of Payment:
Please make cheque or money order payable to Hearts Work and send to: Donna Wheatcroft, #1904, 188 – 15 Ave. SW, Calgary, Alberta T2R 1S4
——————————————————————————————————————————————-
Name:_____________________________________________Workshop dates__________
Address:___________________________________________________________________
PC/Zip:______________Email:__________________________________________________
Ph:________________________________Fax:_____________________________________
Payment: 2-day $_________and/or 3-day $_________+ Manual CD $ _________
Total Enclosed: Cheque or money order: $ ____________ Thank You
………………………………………
Thank you, Donna, for your dedication to creating a high-performing learning community!
Doc Meek, Monday, October 4, 2010, at Nose Hill, Public Library, Calgary, Alberta, CANADA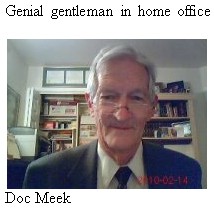 J. Collins Meek, Ph.D. (Doc Meek)
"What if you are smarter than you think?"
Learning Specialist https://docmeek.com
For brain health, ensure heart health (short video):
http://www.amiraclemolecule.com/themeekteam
More on heart health http://www.themeekteam.info
Ph (801) 971-1812 (Jeannette); Fax [801] 282-6026
THE LEARNING CLINIC WORLDWIDE, INC.
CANADA: P.O. Box 3105, Sherwood Park, AB T8H 2T1
TONGA: Mele Taumoepeau, P.O. Box 60, Nuku'alofa
USA: 3688 W 9800 S, #138, South Jordan, UT 84095
=======================================