Wednesday, August 18, 2010. Today I am grateful for ideas that help others (and perhaps ourselves into the bargain, eh?) For some reason this reminds me of Joe Btfsplk, the perpetual "dark-rain-cloud-over-his-head" character created by Al Capp in his "Li'l Abner" comic strip, more than sixty years ago now.
Joe Btfsplk was a character in the satirical comic strip Li'l Abner by cartoonist Al Capp (1909–1979). He's well-meaning, but is the world's worst jinx, bringing disastrous misfortune to everyone around him. A small, dark rain cloud perpetually hovers over his head to symbolize his bad luck. Hapless Btfsplk and his ever-present cloud became one of the most iconic images in Li'l Abner.
One storyline in the early 1970s features him trapping his cloud in a special anti-pollutant jar. Joe becomes romantically involved with a gal for the first time—until her crazed ex-boyfriend shows up to kill him. Joe reluctantly opens the jar and releases his cloud in order to take care of the boyfriend, and wistfully realizes that he wasn't meant for any other kind of life. As he returns to his normal, loner existence, his cloud once again in tow, he is for the moment satisfied to be who he really is.
In addition to the obvious comic effect, Capp often used Joe Btfsplk as a deus ex machina to produce miraculous rescues or to effect plot twists. Joe was later licensed for use in a series of animated TV commercials for Head & Shoulders, a dandruff shampoo.
Etymology
"
How else would you pronounce it?
"
—Al Capp
According to Al Capp, btfsplk is a rude sound. During public lectures, Capp demonstrated this phatic sound by closing his lips, leaving his tongue sticking out, and then blowing out air, which is colloquially called a "raspberry" or Bronx cheer. ……………………………………………………………………………………………………….
Thank you, Al Capp! Today I want to remind us we don't have to accept who we "are." We can change our mind, change our behavior and change our achievement.
Years ago, I worked with a grade seven student who was failing science. (He was failing everything else too, and we decided to start with science.)
Doc Meek: "Well, Sam [not his real name], what was your mark on your last science exam?"
Sam: "24%."
Doc: "Do you like your science teacher?"
Sam: "I hate my science teacher."
Doc: "OK, here's the deal. How would you like to go on hating your science teacher and get 74% on your next science exam a month from now?"
Sam: " . . . Uh . . . [mumbles] . . . that's not possible!!"
Doc: "Want to try me?"
Sam: "I can't do that!"
Doc: "What?"
Sam: "Get a higher mark when I hate my science teacher!"
Doc: "I'll show you how to do it, OK"
Sam: "It won't happen [defeated tone]."
Doc: "OK, just follow my instructions and we'll see how it goes, OK? I'll show you how to use your brain differently and watch your marks go up, OK?"
[Sam did the work. He started using his brain differently. Things got better for him at school, both in the classroom and out of the classroom as well.]
Doc [five weeks later]: "Sam, what mark did you get on your science exam that you wrote the other day?"
Sam: "74%."
Doc: "Impossible!"
Sam: "No, I got 74%."
Doc: "Do you still hate your science teacher?"
Sam: "Yah . . . he's really not that great you know. He's not as bad as he used to be though."
Doc: "Well, that's good. Don't get carried away though, eh? Don't start liking him a lot. Your marks may go down."
Sam [grinning from ear to ear]: "I'll try to keep on not liking him." 😮
[Then, inexplicably, Sam started to cry.]
Doc: "Whatcha thinking?"
Sam: "Why didn't somebody show me this [how to use my brain in school] in grade one? It would have stopped all the hell I went through for years!"
Doc: "They didn't know. I'm doing teacher trainings now. That should help a bit. Maybe the university will start putting it in the teacher training courses, eh? Wouldn't that be nice?" 😮
Sam continued to do well in school and became a "different person" all around. He was really the same person. He had just learned to use his brain differently. That's all.
"And that has made all the difference," as Robert Frost averred many years ago now, in this poem entitled, "The Road Not Taken."
Two roads diverged in a yellow wood,
And sorry I could not travel both
And be one traveler, long I stood
And looked down one as far as I could
To where it bent in the undergrowth;
Then took the other, as just as fair,
And having perhaps the better claim
Because it was grassy and wanted wear,
Though as for that the passing there
Had worn them really about the same,
And both that morning equally lay
In leaves no step had trodden black.
Oh, I marked the first for another day!
Yet knowing how way leads on to way
I doubted if I should ever come back.
I shall be telling this with a sigh
Somewhere ages and ages hence:
Two roads diverged in a wood, and I,
I took the one less traveled by,
And that has made all the difference.
– Poem from http://www.PoemHunter.com …………………………………………….
Thank you, Robert Frost! And PoemHunter.com!
Doc Meek, Wednesday, August 18, 2010, at Calgary, Alberta, CANADA
——–
J. Collins Meek, Ph.D. (Doc Meek)
"What if you are smarter than you think?"
Learning Specialist https://docmeek.com
For brain health, ensure heart health (short video):
http://www.amiraclemolecule.com/themeekteam
More on heart health http://www.themeekteam.info
Ph (801) 971-1812 (Jeannette); Fax [801] 282-6026
THE LEARNING CLINIC WORLDWIDE, INC.
CANADA: P.O. Box 3105, Sherwood Park, AB T8H 2T1
TONGA: Mele Taumoepeau, P.O. Box 60, Nuku'alofa
USA: 3688 W 9800 S, #138, South Jordan, UT 84095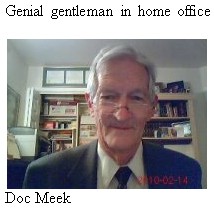 ====================================
2 Responses to ""How to be happy though miserable." – Doc Meek"