Wednesday, August 4, 2010. My oldest daughter's birthday today! She's all grown up, married, has two children, and left home long ago. 😮 Happy birthday, Tanya! And many more!
Tanya and her two daughters; photo from Facebook:  http://www.facebook.com/home.php?#!/photo.php?pid=1167193&op=1&o=global&view=global&subj=583987065&id=711955527&fbid=27865975527
Learning to love learning
Tanya is a good example of the importance of loving learning. If you don't want to fall in love with learning, that's OK. Just learn to enjoy it. If you don't enjoy it now, find a way–somehow–to learn to make it easier for yourself to study more efficiently and to remember longer. You can do it, believe me.
That's what I teach my students in my private practice at THE LEARNING CLINIC WORLDWIDE. When you learn to enjoy learning, or at least to enjoy becoming more competent, it will stand you in good stead your whole life through.
Tanya finished high school with good grades and went on to nursing school to pursue and obtain her RN (Registered Nurse) Certificate. Later, she completed her bachelor's degree in nursing.
When she worked "up north," as we say in Canada (it's actually "down north," in terms of elevation), she was both nurse and "doctor" in the sense that she was the only "medical" person for many miles around. She provided great service in Canada's north.
Later, in more turbulent times
Later, when she was going through a "rough patch" in her life, she was so grateful to have secured post-secondary qualifications, as she was able to provide sufficient income to more than just survive.
So, pay attention girls. You never know what life will bring. Get all the education and/or training that you can and you will always congratulate yourself for looking after your future self as best you could.
When the going gets tough in your schooling, get help. Fortunately there is usually an abundance of help of all kinds for people who are trying to better themselves through advanced education or training.
To the best that is in you, girls!
Blessings, Doc Meek, Wednesday, August 4, 2010, at South Jordan, Utah ———————————–
J. Collins Meek, Ph.D. (Doc Meek)
"What if you are smarter than you think?"
Learning Specialist https://docmeek.com
For brain health, ensure heart health (short video):
http://www.amiraclemolecule.com/themeekteam
More on heart health http://www.themeekteam.info
Ph (801) 971-1812 (Jeannette); Fax [801] 282-6026
THE LEARNING CLINIC WORLDWIDE, INC.
CANADA: P.O. Box 3105, Sherwood Park, AB T8H 2T1
TONGA: Mele Taumoepeau, P.O. Box 60, Nuku'alofa
USA: 3688 W 9800 S, #138, South Jordan, UT 84095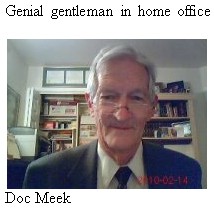 ====================================