Wednesday, October 13, 2010. Today I am grateful that legitimate disputes can often be settled amicably by mediation and its variants. Such alternatives are often preferable to court action.
.
The courts are good, honorable, and valuable. It is also good that there are less formal, less intimidating ways to settle legitimate disputes between persons or agencies.
.
Disputes, although they may be disagreeable, can be a valuable learning experience. Parents and teachers for years have encouraged children to learn to settle disputes without resort to violence. Adults of every persuasion can follow this example.
.
Here's to the people who had the foresight to set up valuable and less expensive ways to settle legitimate disputes.
.
Doc Meek, Wednesday, October 13, 2010, at Nose Hill Public Library, Calgary, Alberta, CANADA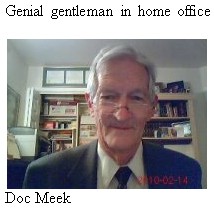 J. Collins Meek, Ph.D. (Doc Meek)
"What if you are smarter than you think?"
Learning Specialist https://docmeek.com
For brain health, ensure heart health (short video):
http://www.amiraclemolecule.com/themeekteam
More on heart health http://www.themeekteam.info
Ph (801) 971-1812 (Jeannette); Fax [801] 282-6026
THE LEARNING CLINIC WORLDWIDE, INC.
CANADA: P.O. Box 3105, Sherwood Park, AB T8H 2T1
TONGA: Mele Taumoepeau, P.O. Box 60, Nuku'alofa
USA: 3688 W 9800 S, #138, South Jordan, UT 84095
=======================================
4 Responses to ""Mediation preferable to court." – Doc Meek"