Doc responding to a student's questions in his private practice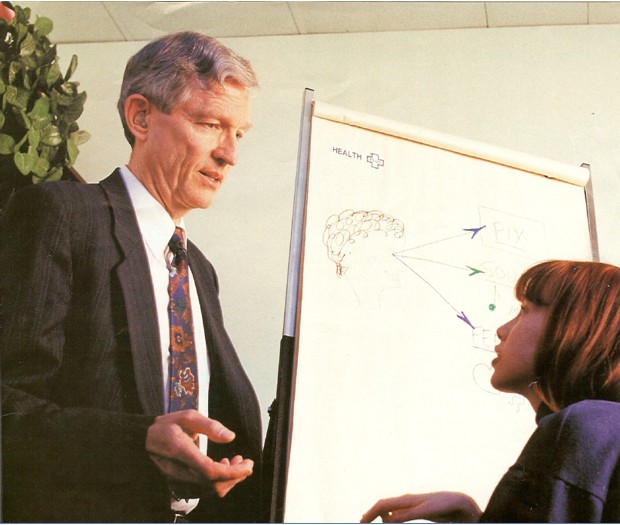 Brief Biography (Professional)

J. COLLINS MEEK, B.Ed., M.Ed., Ph.D.

According to the Calgary PROFILE magazine (March 1995):
"Dr. Meek brings a unique blend of warmth, intelligence and humor to everything he does."
Dr. Meek is a learning specialist and counselor with extensive experience in almost all aspects of teaching, learning, and family systems counseling in various agencies and and schools in diverse cultures and venues in several countries.
He also provides specific leadership with respect to results-based training and effective strategies for helping families with learning, emotional, and behavioral difficulties, including anger management and abuse prevention, whether at home, at school, or in employment settings.
Dr Meek has been extensively involved in on-the-job teacher training.
He is a Canadian Citizen by birth, a British Citizen by descent, and a naturalized United States Citizen, authorized to work in more than 30 countries worldwide.
Dr. Meek is affectionately called "Doc" by his young clients, and almost everybody else now.
He has been teaching, speaking, conducting workshops, traveling to various countries, and consulting with clients for more than 30 years. He willingly shares his knowledge with many people of all ages and in a variety of different cultures.
He is an excellent editor, author and columnist, offering a significantly diversified background in both the public and private sectors. He is committed to developing and implementing high-quality learning and counseling programs that enhance mental acuity, self-confidence and problem-solving behaviors.
He loves to connect the vital "4 H's" of education (Head/Heart/Hands/Hope):
– Head: brain, mind, intellect, genius, logic, knowledge, creativity, etc.
– Heart: intuition, feelings, emotion, fairness, caring, enthusiasm, etc.
– Hands: skills, knowledge in action, craftsmanship, professionalism, etc.
– Hope: commitment, "knowing that you know," following your "true self," etc.
.
DR. MEEK LOCATIONS:   Salt Lake City and South Jordan, Utah, USA
Calgary, Edmonton, and Sherwood Park, Alberta, CANADA
Nuku'alofa, Tongatapu, Kingdom of Tonga, SOUTH PACIFIC ISLANDS
.

Role:                     Available for training, counseling and clinical services
Qualifications:         B.Ed., M.Ed., Ph.D.
Experience:             Thirty plus years experience in most aspects of teaching, learning, and counseling, including tough cases, and finding practical solutions for people of all ages
…………………………………………………
………………………………………
J. Collins Meek III, Ph.D. (Doc Meek)
"What if you are smarter than you think?"
Learning Specialist: https://docmeek.com
PH (801) 971-1812 (Jeannette); Fax [801] 282-6026
International callers first enter the country code (+1)
THE LEARNING CLINIC WORLDWIDE, INC.
CANADA: P.O. Box 3105, Sherwood Park, AB T8H 2T1
TONGA: P.O. BOX 60, Nuku'alofa (c/o Mele Taumoepeau)
USA: 3688 W 9800 S, #138, South Jordan, UT 84095
Associate Links: http://www.themeekteam.info; see short
video at: http://www.amiraclemolecule.com/themeekteam
==========================================