Tuesday, September 14, 2010. I am grateful for knowledge. "Knowledge is power," I have been wont to say. My wife Jeannette likes to add, "Not if you don't apply it." Well said, Jeannette!
And as Benjamin Franklin said: "Your best investment is to pour your purse into your head, and no one can take it away from you."
Images from: TSA, University of Michigan: http://tsaum.com/drupal-5.6/
My sister Anita says that knowledge increases in universities and schools: "The incoming students bring a little in, the graduates take none away, and knowledge accumulates." 😮
Thank you, Anita!
Not all knowledge comes from books or formal schooling. There are infinite opportunities for all of us, parents, children, teachers and students to learn much that lies adjacent to, or outside of, formal learning situations.
For me, reading a lot and observing and interacting with life in the world of reality, helps me be not only a more knowledgeable person, it also helps me be a better person.
"Every day in every way, I am becoming better and better!" says my friend. 😮
Doc Meek, Tues, Sept 14, 2010, at  Edmonton, Alberta, CANADA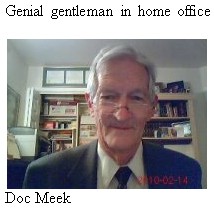 J. Collins Meek, Ph.D. (Doc Meek)
"What if you are smarter than you think?"
Learning Specialist https://docmeek.com
For brain health, ensure heart health (short video):
http://www.amiraclemolecule.com/themeekteam
More on heart health http://www.themeekteam.info
Ph (801) 971-1812 (Jeannette); Fax [801] 282-6026
THE LEARNING CLINIC WORLDWIDE, INC.
CANADA: P.O. Box 3105, Sherwood Park, AB T8H 2T1
TONGA: Mele Taumoepeau, P.O. Box 60, Nuku'alofa
USA: 3688 W 9800 S, #138, South Jordan, UT 84095
=======================================