Saturday, August 6, 2010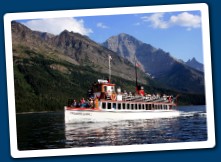 Click to Enlarge
My wife Jeannette and I spent the day at Waterton National Park, Waterton, Alberta, CANADA. We took the little historic "M.V. International" ship on Waterton Lake and crossed over the border into the USA on the lake, landing at Goat Haunt Landing.
We learned a lot about the history of this area and about the abundant wildlife. We say deer in town, including two little "Bambi" fawns. We saw a black bear. We missed the moose. They had retired for the night I guess. 😮
It was a great day, and now we are outside the park, down the road aways, in Pincher Creek, Alberta, for the night.
To beautiful mountain lakes!
Doc Meek, Saturday, August 6, 2010, at the Foothills Motel in Pincher Creek, Alberta, CANADA. (The Foothills Motel owners, Sun and Jane Kwon, generously let me use their private computer to post this article; thank you, Sun and Jane!)
———————-
J. Collins Meek, Ph.D. (Doc Meek)
"What if you are smarter than you think?"
Learning Specialist https://docmeek.com
For brain health, ensure heart health (short video):
http://www.amiraclemolecule.com/themeekteam
More on heart health http://www.themeekteam.info
Ph (801) 971-1812 (Jeannette); Fax [801] 282-6026
THE LEARNING CLINIC WORLDWIDE, INC.
CANADA: P.O. Box 3105, Sherwood Park, AB T8H 2T1
TONGA: Mele Taumoepeau, P.O. Box 60, Nuku'alofa
USA: 3688 W 9800 S, #138, South Jordan, UT 84095
====================================