Wednesday, September 22, 2010. I am grateful for others who have implemented Grace Pilon's Workshop Way approach. Here is one of them: Susan Harnage at http://www.workshopway.com
Hi,I'm Susan and I live in Gold Canyon, Arizona. I'm happy to share my educational expertise and to be your link to WORKSHOP WAY® information. My Master's Degree is from Xavier University of Louisiana in Curriculum and Instruction with a Specialization in WORKSHOP WAY. I knew and loved Grace Pilon while having the opportunity to study directly under her. I am one of only a few remaining people in the world that has this specialized degree and is still currently using the program in a classroom.I am currently an educational consultant with 13 years of experience as a former licensed consultant for WORKSHOP WAY. I dedicated 7 years of my life working as the Executive Director for the company's Non-profit organization. Additionally, I have been implementing Grace Pilon's philosophy and "System of Education" in my classroom for 20+ years. I am a certified K-8 teacher and have taught a vast array of grade levels. My classroom experience is primarily in the Public School system but includes work in a Charter School and in a Multi-age setting.

I have personally met many of you that are reading this text and visiting this website. I consider you friends and intend to continue assisting you in all aspects of the educational process to the best of my abilities. I am currently a full-day kindergarten teacher using WORKSHOP WAY daily. I am required to blend it with all other state requirements and believe I do that well. I, also, believe this gives me valuable and current information about the demands, trends, student needs and legislation placed on teachers during their teaching careers.
As a licensed consultant I was expected to volunteer a portion of my services each year. This website is one of many ways that I donated my time and efforts to preserve and promote Grace Pilon's legacy and wonderful program called WORKSHOP WAY. My brother is the technical brains behind the site and has helped me maintain its operation for over 11 years.
 
To find out more, to get help with decisions about purchasing materials, to view and purchase my materials, or to simply find someone to help answer your education related questions click the button.
Click to visit the coprorate WORKSHOP WAY® site
® Federally Registered Trademark, Owned by The Workshop Way, Inc., used with permission
As of March 2005 "THE WORKSHOP WAY" corporate website has officially been www.workshopway.ORGThe individuals responsible for creating, updating and maintaining this website have done so for the past decade, always operating in good faith, as volunteers and stewards of Grace Pilon's philosophy. After hurricane Katrina devastated New Orleans and WORKSHOP WAY's physical business office this domain was also used as a communication device, in addition to www.workshopway.ORG between its clients, licensed consultants and classroom teachers across the country. It has been used in support of the business offices, its displaced employees, and for enhancing communication and productivity. All work on this website has been respectfully done by dedicated individuals. The owners of this domain name have been operating in good faith for a decade of loyal service.To contact Susan Harnage email: SHarnage@aol.com

Thank you, Susan!

Doc Meek, Wednesday, September 22, 2010, at Sherwood Park, Alberta, CANADA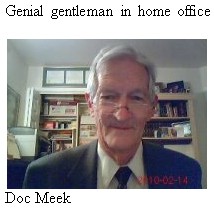 J. Collins Meek, Ph.D. (Doc Meek)
"What if you are smarter than you think?"
Learning Specialist https://docmeek.com
For brain health, ensure heart health (short video):
http://www.amiraclemolecule.com/themeekteam
More on heart health http://www.themeekteam.info
Ph (801) 971-1812 (Jeannette); Fax [801] 282-6026
THE LEARNING CLINIC WORLDWIDE, INC.
CANADA: P.O. Box 3105, Sherwood Park, AB T8H 2T1
TONGA: Mele Taumoepeau, P.O. Box 60, Nuku'alofa
USA: 3688 W 9800 S, #138, South Jordan, UT 84095
=======================================