Thursday, August 26, 2010. Today I am grateful that I can have feelings of gratitude. I am grateful that I am able to smile at myself, and even laugh on occasion.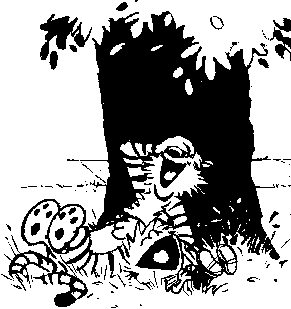 "Calavin & Hobbs" laughter image from: http://natalieshell.com/2007/01/26/doctors-prescribe-laughter/
Natalie Shell Says:
March 2nd, 2007 at 5:45 am Another story –
19th Century teaching of Rabbi Bunim, who said that each of us should walk with a slip of paper in our left and right pockets. One paper should contain the phrase from the Talmud, "All of heaven and earth was created for me." On the other should be written Abraham's refrain from Genesis: "I am but dust and ashes."

The wisdom is knowing when to pull out which…

Natalie Shell: think talk walk » Blog Archive » Perhaps it is time to REALLY laugh? Says:
June 1st, 2007 at 5:21 pm […] to take it from me – all sorts of people including Buddha and that Doctor in India recommend [laughter]. Sholom Aliechem recommends it. And I believe there is a story of man who laughed himself to health from cancer […]
"Thank you, Natalie Shell!" – Doc Meek ………………………………………………………………………
There was a time in my life when I was over-focused on problems, complaints, and difficulties, and did not understand that I had many things for which to be grateful.
I needed to learn to take myself less seriously and make my own happiness. I am still working on that.:o
My wife Jeannette has mastered the art of being happy, even in adverse circumstances, long ago. I have a long ways to go to catch up with her. I may never catch up! 😮
I am grateful for my wife Jeannette.
Here's to self-involvement in our own learning about how to smile at ourselves, and even laugh at ourselves . . .  gently. 😮
Doc Meek, Thursday, August 26, 2010, at Sherwood Park, Alberta, CANADA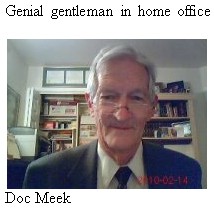 J. Collins Meek, Ph.D. (Doc Meek)
"What if you are smarter than you think?"
Learning Specialist https://docmeek.com
For brain health, ensure heart health (short video):
http://www.amiraclemolecule.com/themeekteam
More on heart health http://www.themeekteam.info
Ph (801) 971-1812 (Jeannette); Fax [801] 282-6026
THE LEARNING CLINIC WORLDWIDE, INC.
CANADA: P.O. Box 3105, Sherwood Park, AB T8H 2T1
TONGA: Mele Taumoepeau, P.O. Box 60, Nuku'alofa
USA: 3688 W 9800 S, #138, South Jordan, UT 84095
=======================================
One Response to ""What are you grateful for today?" – Doc Meek"