Tuesday, October 26, 2010. Today I am grateful for friends who came and helped my spouse Jeannette and I to renovate our home. In the Bible, the phrase, "the laborer is worthy of his hire," refers to those who labor in the ministry.
However, it is true of all laborers I think.
 Name: Joseph Marshall Location: Columbus, Ohio, United States; Profession: Writer, Cabinetmaker
Image from: http://shotofpolitics.blogspot.com/2005/02/laborer-is-worthy-of-his-hire.html
Some people think that academic enterprises are superior to manual labor. I don't think so. Without humble laborers, we wouldn't have buildings in which to carry on schooling and we wouldn't have homes to live in.
Here's to all laborers, big and small!
And a special salute today to Craig, Val, Madi, Jody and Rick, who helped renew our humble older home. Thank you, one and all!
Doc Meek, Tuesday, October 26, 2010, at Nose Hill Public Library, Calgary, Alberta, CANADA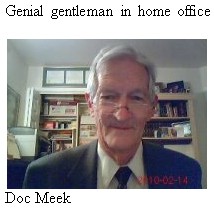 J. Collins Meek, Ph.D. (Doc Meek)
"What if you are smarter than you think?"
Learning Specialist https://docmeek.com
For brain health, ensure heart health (short video):
http://www.amiraclemolecule.com/themeekteam
More on heart health http://www.themeekteam.info
Ph (801) 971-1812 (Jeannette); Fax [801] 282-6026
THE LEARNING CLINIC WORLDWIDE, INC.
CANADA: P.O. Box 3105, Sherwood Park, AB T8H 2T1
TONGA: Mele Taumoepeau, P.O. Box 60, Nuku'alofa
USA: 3688 W 9800 S, #138, South Jordan, UT 84095
=======================================