I am grateful today [Tuesday, August 10, 2010] for our guest article from Veterans Affairs Canada:  http://www.vac-acc.gc.ca/youth/sub.cfm?source=feature/week/pilgrimage/bios/spear
"Thomas Arnott Ballingal Spear, Veteran of the First World War, Calgary, Alberta," written by Veterans Affairs Canada February 18, 1999.
[Tom Spear, an ordinary man who did ordinary things extraordinarily well]
Tom Spear was born in Galt, Ontario, on October 22, 1896. The son of a pioneer missionary who ministered in the Northwest Territories, Tom grew up in Innisfail, Alberta, and Pipestone, Manitoba. He eventually moved to Emerson, Manitoba, where he got a job, in early 1915, as a telegrapher for the Canadian Pacific Railway (CPR). Tom enlisted in the Canadian Signal Company in Winnipeg on February 25, 1916, and arrived in England aboard the SS Baltea on May 25, 1916. He was sent to Shorncliffe, where he received additional training in communications. Being a professional telegrapher, it didn't take him long to master the Allies' Continental Code, which was slightly different from the Morse Code that he was used to using.
While in England, as part of the 5th Canadian Division and waiting to be sent over to France, Mr. Spear remembers the morale amongst the men was excellent, "They were ready and rarin' to go." The 5th Division was dispersed when the soldiers finally were called up and transferred as reinforcement troops for the other Canadian Divisions, which had experienced heavy casualties at Vimy, Passchendaele and Amiens. Tom arrived in France on April 11, 1918 and remained there until 1919.
Mr. Spear worked as in the Wireless Section, in "interception", most of the time he was in France. The wireless radio was very necessary to the advancing troops. It wasn't subject to the breaks in over-land transmissions that exploding shells caused when they severed cables. Tom also remembers working in a truck that had an antenna on its roof, capable of receiving signals from as far away as the Eiffel Tower in Paris.
Despite having experienced a close call during shelling on the Arras front, Tom doesn't feel it serves any purpose to revisit the horrors of war. He does recall with sadness, however, the loss of his 23-year-old brother, William D. Spear, MM, who was killed in action on September 27, 1918, during the Battle at Canal du Nord while he was repairing damaged lines. They had served in the same Signals Unit with the Canadian Engineers. While on the 80th anniversary pilgrimage, Tom will have the opportunity to visit Will's grave at the Bourlon Woods Cemetery.
At the outbreak of the Second World War, Tom was once again recruited for signals. He states that the technology had changed so much since his prior service that he was redirected to other duties, in the Air Training Command of the Royal Canadian Air Force. Three times during the war, he was recommended for the Order of the British Empire. Mr. Spear was an Acting Wing Commander by the war's end, when he returned home to Winnipeg and resumed his work with the CPR, where his career spanned a very successful 50 years.
Tom now  [1999] lives in Calgary and leads a very active life, still enjoying golf, curling, fly fishing, and dancing. He drives his own car, and is proud that his memoirs on "my 102 years of quality living" [will soon be available in bookstores]. ………………………………………………………………………………………..
Thank you, Tom, for your exemplary life! Even though you have doubtless passed on by now [2010], we salute you!
Tom, I am going to read your book!
Parents and teachers can find a rich resource for home and classroom learning in the lives and times of our "Ordinary Elders" and our "Elders of Excellence."
Doc Meek, Tuesday, August 10, 2010, at the Nose Hill Public Library in Calgary, Alberta, CANADA.
——–
J. Collins Meek, Ph.D. (Doc Meek)
"What if you are smarter than you think?"
Learning Specialist https://docmeek.com
For brain health, ensure heart health (short video):
http://www.amiraclemolecule.com/themeekteam
More on heart health http://www.themeekteam.info
Ph (801) 971-1812 (Jeannette); Fax [801] 282-6026
THE LEARNING CLINIC WORLDWIDE, INC.
CANADA: P.O. Box 3105, Sherwood Park, AB T8H 2T1
TONGA: Mele Taumoepeau, P.O. Box 60, Nuku'alofa
USA: 3688 W 9800 S, #138, South Jordan, UT 84095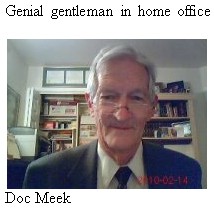 ====================================