Posts Tagged 'learning problems'
Today I am grateful for people who are very sensitive and for those who help them, like Sharon Heller, expert and author. – Doc Meek
Image from: 123rf.com
Super Sensitive Smell
My first experience with super senses came when I first started my private practice at THE LEARNING CLINIC, several decades ago now.
A young boy was brought in by his mother, who was worried about his problems at school and at home. She introduced me to Jackson (not his real name) and asked me to speak with him about school.
Jackson and his Mom were seated about 6 feet away from me in my office.
"Hi Jackson," I ventured softly. "Can you tell me something that you are good at?"
Silence.
"Maybe you could share with your Mom and me something that you like? Anything. Not just at school. OK?"
Silence
Surprise for Doc Meek (and Mom!)
Mom encouraged Jackson to speak up: "Doc is kindly and gentle, son, and will listen respectfully to what you say, no matter what."
"Your breath stinks," ventured Jackson, holding his nose. (Remember that Jackson was 6 feet away from me.)
Mom's face reddened and she was about to expostulate…
I said, "It's OK, Mom."
"It's OK, Jackson. You are just letting me know what you don't like and that's good."
HSP (Hypersensitive Person)
I recalled my earlier reading about HSP (hypersensitive person), or in plain English: Highly Sensitive People).
Jackson, encouraged, ventured again:
"Your wall clock is so noisy I can't hear you and Mom real good."
Neither Mom nor I could hear the wall clock tick.
Thus began my fortunate face-to-face education about HSP (Highly Sensitive People). Of which, more later.
For details on these kinds of learning problems, see the delightful book by Sharon Heller (2003), too loud, too bright, too fast, too tight, available online at Amazon.com and elsewhere:
Thank you, Sharon Heller!
Dialing down the ticking clock
I did not know how to help Jackson with the super smell at the time.
I did know how to try to help with the super hearing.
Using concrete examples such as turning down the volume on a radio, we taught Jackson's brain how to mentally dial down the volume of items that were distracting him in everyday life.
We had Jackson imagine a picture of radio volume dial out in front of him and and we had him reach out with his hand and turn the volume dial down.
This was not sufficient.
Finally the idea came of hooking up an imaginary small motor with a belt pulley attached to the volume control dial.
As the motor spins the volume dial down "endlessly," the brain is able to dial down distracting sounds (such as a ticking clock, or tinnitus).
"Magic." 😮
Doc Meek, South Jordan, Utah, USA, Sept 10, 2014
………………………………………………………………………………………………….
P.S. Highly Sensitive Granddaughter
Years later, the memory of Jackson came back to me when I was walking by a brick building with my granddaughter Katie (not her real name).
Suddenly ("for no reason") she clapped her hands firmly over her ears.
"What's happened?" I asked as we walked further away.
"Those pipes are so noisy," she advised Grandpa, whose hearing is not perfect she knew.
Turns out that two "silent" exhaust pipes were softly "whooshing" air from an unheard fan highly distant from the pipe exit.
"Good luck, little girl," I whispered inside my head. "I'm glad we know better now how to help you manage better." ………………………………………………………………………………………………….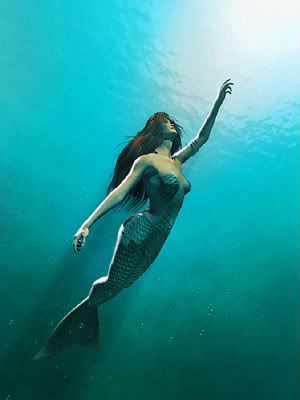 Image from: Photobucket.com
LADY AQUAMARINE HIDES SECRET SHAME
By Dr. J. Collins ("Doc") Meek
Once upon a time an undersea lady of noble blood pined to become a mortal. Finally, miraculously, her wish was granted. She became mortal and soon joined a women's precision swim team.
No longer burdened with royal demands and expectations, Lady Aquamarine (now simply known as Andrea) entered upon her human adventure with great gusto. Her undersea swimming talents made for high success on the women's precision swim team.
Still, mortality was a real challenge in many ways. This created moments in her life that were difficult and joyful, both.
She and her team rose to the top of their rank and were known and lauded far and wide.
Painful Secret
But alas, the Aquamarine Lady had a painful secret. Very painful. Although she was lauded and loved by everyone, she covered her heart in shame within herself. She spoke to no one of her carefully guarded secret…
Life went on.
Image from: Photobucket.com
One day, she was talking with her mother (Lady Amelia of the North Sea) and told her that though she was highly successful as a precision swimmer (of course!), she was failing as a mortal because she could not read. Her mother reminded her that a return to her former undersea life was not possible.
"I Am So Ashamed"
"Why don't you seek some way to learn to read?" her mother asked innocently. "Impossible!" exclaimed Andrea, thoroughly discouraged. "I've tried everything and nothing works. I'll never be able to learn to read. I am so ashamed!"
"Better seek out the Old Man of the Sea," her mother intoned and dove back into her accustomed watery domain.
The Old Man of the Sea was elusive.
Hope at Last
So Andrea asked her mortal friend Andilusia, "What can I possibly do?" Andilusia said, "I've heard there is a doctor who helps hopeless cases. The mothers love him because he gives them hope for their troubled children.
Andrea sought far and wide for this hopeful doctor. When she finally found him, she pleaded with him to help her learn to read. He asked her, "What is the one thing on earth you love most?"
Andrea immediately related her adventures as a precision team member. "I love the work and I love the team and I love the challenges."
Then, for seemingly no reason, she blurted out, "But what I love the most is swimming in the aquamarine waters of the South Pacific islands!" She didn't tell him this was in her former undersea life of course. She was afraid he would not believe her aquatic story.
The good doctor simply said. "Was it the warm waters that you loved?"
Aquamarine Hues Can Speak! 
"Yes," mused Andrea, "And mostly the incredible aquamarine hues!"
"You have no idea of the magnificence of the aquamarine hues," she said, almost weeping.
"Well, it is obvious then," said the good doctor, "we need to have those inspiring aquamarine hues teach you now to learn to read."
"What!?" exclaimed Andrea, not willing to believe the good doctor knew that lovely-hued waters could talk with her as in her former undersea life.
Colored Overlays a Big Surprise

"Here," said the good doctor, "Look at these gel colored overlays that are used to cover spotlights in the world of dramatic productions, presentations and plays."
"Oh," blurted Andrea, "Sometimes they put spotlights on us when our precision swim team is performing, especially in the evenings."
Andrea immediately sought out one of the technicians who operated the spotlights for the team. He showed her an array of gel colored overlays, and she quickly picked several that were an exact match with the aquamarine waters of her South Seas experiences.
Andrea placed one of the aquamarine gels over the first page in a book she longed to read.
The "Small Black Marks" on the Printed Page Now Made Sense!
And she could not believe her eyes! The normal blur of quaint black marks on the page now shimmered gently in a quiet sea. She noticed that some of the quaint black marks (now softened by one of the aquamarine colored overlays) seemed to speak to her softly, seemed to make more sense to her now.
"My love of precision swimming now gives me a love of reading that I never ever thought I could achieve!" she rejoiced.
She wept for joy.
Defeats Dyslexia
With time, she learned individual words and phrases and loved to make sense of the whole sentence, then the whole paragraph and then the whole story.
And so, thanks to the colored overlays she was now using every day, she went merrily on her way! She got on with her life with great precision and great happiness.
Once thoroughly defeated, Lady Aquamarine now thoroughly defeats dyslexia.
……………………………
J Collins Meek, Ph.D., shows children and adults how to defeat dyslexia, ADHD, and many different kinds of learning problems. He is in private practice in Edmonton, Alberta, CANADA. He is an expert at creating innovative protocols to help children and adults triumph over learning difficulties.
Thursday, January 24, 2013. Today I am grateful for those who challenge unproven conventional schooling practices. – Doc Meek
.
Homework wars not worth it! 
.
I spent more than 30 years helping students at all levels overcome learning difficulties (including school problems and home problems). Except for senior high school level and beyond, homework added nothing and subtracting much from learning. Amazing, given that homework is an almost universal practice, even for students of very young ages.
.
Homework often added to the learning problems, rather than relieving them. Sometimes I was reduced to writing a formal letter to the school waiving homework for troubled children. The school would sometimes counter by asking the parents to sign a waiver relieving the school of responsibility for the academic results for the child. They neededn't have bothered, since the students inevitably did much better minus the burden of after-school and evening homework.
.
The problem for students was that they would put in a trying day at school and then face a trying evening with homework, where parents were pushing for what they thought was best and the tired students dragged their feet. The constant battle over homework wore out the parents and the students.
.
You would think it would be obvious to everyone that a struggling student in Grades 1-4, say, who faced an evening–every evening–of onerous homework would, in a sense, cease to have a real life. Children need more than school. They need sociality, sports, friendship and fun to grow as well-rounded persons.
.
Amazingly, some studies show that elementary school students who do daily homework actually get poorer marks than those who confined their studies to school hours.
.
Instead of homework wars, why not declare war on homework? The students benefit, the parents benefit, and the teachers benefit.
.
This is a win-win-win strategy!
.
Doc Meek, Thurs, Jan 24, 2013, Sherwood Park, Alberta, CANADA
Thursday, May 10, 2012. Today, I am grateful for parents, teachers & students who endure.  – Doc Meek
Do You or Your Student or Your Child Have Reading Difficulties or Learning Difficulties? 
What if you are smarter than you think?
Einstein had overwhelming learning difficulties at school, and look at the creativity and accomplishment he brought to his life.
Click for image of Einstein: http://www.ideachampions.com/weblogs/archives/2011/09/the_timeless_wi.shtml
A series of articles to help mothers, teachers & students with reading problems is at: docmeek.com/mothers
Doc Meek, Thurs, May 10, 2012, Sherwood Park, Alberta, CANADA
"What if you are smarter than you think?"
J. Collins Meek, Ph.D. (Doc Meek)
Neurological Learning Specialist/Facilitator
["Everyone" says: "He's fun to work with."]
THE LEARNING CLINIC WORLDWIDE, INC.
CANADA: Dr. Meek (587) 400-4707, Edmonton, AB
TONGA: Mele Taumoepeau, P.O. Box 81, Nuku'alofa
USA: Dr. Meek (801) 738-3763, South Jordan, Utah
For optimum brain health, ensure your heart health:
More on heart health: http://www.themeekteam.info
USA: Jeannette (801) 971-1812; South Jordan, Utah
CANADA: Jeannette (587) 333-6923, Calgary, Alberta
CANADA: P.O. Box 3105, Sherwood Park, AB T8H 2T1
=========================================
Sunday, November 20, 2011. Today I am grateful to learn that November is National Aviation Month in the USA. Here I am, a "flying nut," and I didn't even remember that. My trusty colleagues at TeacherPlanet.com reminded me. ~ Doc Meek
For Sale – $2,995,000, N603SC; 5503 TT; New interior was completed in 2006, The entertainment system Airshow Genesys with DVD/CD with one flat screens, Operated part 135/91.
SP Aviation Inc
Phone: (510)812-9927
or (510)783-3584
Fax: (510)783-3587

Details & Photo(s)




Send A Message


Add To Aircraft Of Interest
Share On

Updated: 11/16/2011 12:40:00 AM
Image from: http://www.controller.com/list/list.aspx?ETID=1&setype=1&Manu=LEARJET
Dear Santa,
I know it's a little early to be writing to you.
However, I thought it might be worth alerting you ahead of time on one of my smaller wishes.
See, I'm a simple man with simple tastes. I don't much care what kind of car I drive, and I do not have any overweening ambitions to be rich or anything like that.
All I want for Christmas is a simple little Lear Jet, OK?
Are you able to accommodate a humble wish like that?
Sincerely,
Doc Meek
P.S. Maybe you could lend me a million dollars as a down payment on a Lear Jet if you feel my wish competes with other people's requests for flying machines (like sleighs–with or without reindeer)?
P.S.S. I help kids overcome learning difficulties of all kinds. Does that count in terms of you listing me as a good boy?
I had serious learning problems at first when I tried to learn to fly. Trying to drive the aircraft in 3-D space (maybe infinite-D space?) was not easy compared to driving a car in 2-D on the ground, eh? No fear. I got it in time. That's what I tell the kids: "No matter what you are facing, you will get it in time. Look what Santa learned to do. What if you're smarter than you think?"
Ho, Ho, Ho!
Doc Meek, Sun, Nov 20, 2011, Sherwood Park, Alberta, CANADA
Rex Lewis-Clack, 13 years old, was born blind. He was born so brain damaged, his Mother, Catheen Lewis, was told he would never talk or walk. There was no hope.
15 minutes Catching Up With Rex by CBS 88,713 views
Images from: http://www.youtube.com/watch?v=cCF1xSgyKXg&feature=relmfu
Friday, March 18, 2011. Today I am grateful to know that a child who was labeled severely autistic was found later to respond to music, even though he was super senstive to sounds and would hold his ears when exposed to singing.
Of course every autistic child does not grow up to be a musical genius. That is not the point of this article.
I use music in my private practice (Baroque music, about 60 beats per minute) to help open the channels of learning for children with a large array of learning problems.
Sometimes  the music is simply background music in a classroom that helps almost every child in that classroom to learn more easily and achieve more.
Thanks to those who know, and who have taught us, that music opens the mind and soul!
Doc Meek, Fri, Mar 18, 2011, Sherwood Park, Alberta, CANADA
P.S. Here's the book about Rex Lewis-Clack by his mother Cathleen Lewis:

Rex: A Mother, Her Autistic Child, and the Music that Transformed Their Lives – Hardcover (Oct. 28, 2008) byCathleen Lewis
P.S.S. Somebody told me that it is the "Ides of March" today. I know the reference is to Shakespeare and I do not know the full import of the phrase.
Can anybody "out there" give us some more information on the "Ides of March?"
Wednesday, January 26, 2011. I am grateful that someone made me aware, at the last minute, that the Edmonton Public School Board was addressing a "WiFi Motion" at their meeting last evening, January 25, 2011. Thanks to the Board Secretary, I was able to forward to the Trustees a quickly-drafted "one-pager" brief on the subject of reliance on Health Canada and the World Health Organization for safety standards relative to WiFi (WiFi is a trademark of the WiFi Alliance).
The WiFi Alliance Sponsor Companies
For a complete and lengthy list of member companies of the WiFi Alliance, see: http://www.wi-fi.org/our_members.php#sponsor
| | | |
| --- | --- | --- |
| | | |
| | | |
| | | |
| | | All company images above from: http://www.wi-fi.org/our_members.php#sponsor |
WiFi Motion at Edmonton Public School Board Meeting, Jan 25, 2011
(A "one-pager" brief similar to the following was emailed to the Trustees the day before their Jan 25th meeting)
"A brief introduction: I am a learning specialist, not a medical specialist. I have been in private practice for many years, encouraging students, parents, teachers and educational administrators to utilize strategies that help to overcome learning difficulties.
"The Board's WiFi motion (WiFi is a trademark of the WiFi Alliance) proposes to rely upon Health Canada and the World Health Organization for safety standards relative to the installation of wireless devices in schools. Trustees should consider broadening this WiFi motion, slightly and vitally. It would be prudent, I think, to include in the motion reference to other solid research data, in addition to that adduced by Health Canada and the World Health Organization (WHO). Published standards by such large organizations have a tendency to lag behind solid research.
"Further, much of the well-publicized research upon which Health Canada and WHO rely is industry-funded research, and there is a tendency for such studies to find no harm in the devices which industry produces. This is a natural sequence of events. No organization wants to undermine its own means of existence and we can't fault them on that.
"What we can do is protect the health of students by the inclusion in the WiFi motion of reference to additional independent solid and reliable research.
"Many of you may recall that decades ago a very convenient and useful technology was introduced into shoe stores. People could place their feet in a slot at the bottom of the machine and see their toes wriggling in a pair of new shoes, to see for certain if the fit of the shoe was good. This seemed to be a great and convenient technological aid, at the time.
"Experts assured us that these fluoroscopy machines were perfectly safe. The subsequent rise in cancer rates came as an unpleasant surprise, because it was not generally perceived, at that time, that such ionizing radiation presented a serious health hazard.
"Independent and reliable research is now cautioning us that even non-ionizing electromagnetic radiation (EMR), such as that emitted by numerous wireless devices now in common use in homes, schools and workplaces, presents serious health hazards.
"One man wryly noted that they don't call WiFi "hot spots" for nothing.
"We need to pay attention to this vital knowledge, ahead of time, not after the fact.
"Central nervous system disturbances caused by non-ionizing EMR (electromagnetic radiation) have been documented, in addition to other kinds of human cellular damage.
"In other words, EMR (electromagnetic radiation) impacts the child's brain cells negatively.
"In my many years of working as a learning specialist with children with learning difficulties, I have learned that non-ionizing EMR (electromagnetic radiation) damages the brain's capacity for learning.
"Would it not be the height of irony for schools to install great and convenient technological learning aids that damage the child's capacity to learn?"
–  J. Collins Meek, Ph.D.
Email: docmeek@gmail.com; Website: https://docmeek.com
The Trustees voted 6 to 3 to continue to rely on Health Canada and WHO for safety standards for students, thus guaranteeing that students in schools where WiFi is installed will be bathed all day in health-hazardous non-ionizing EMR (electromagnetic radiation).
Not prudent, in my view.
Doc Meek, Wednesday, January 26, 2011, Sherwood Park, Alberta, CANADA
Wednesday, November 24, 2010. Today I am grateful for David Perlmutter, M.D., a Board-Certified Neurologist with a worldwide practice centered in Naples, on the west coast of Florida.
Images and text below from Dr. Perlmutter's website: http://www.perlhealth.com
"Raise a Smarter Child by Kindergarten"

by David Perlmutter, MD, FACN, ABIHM Learn More »

"The Better Brain Book"
by David Perlmutter, MD, FACN, ABIHM
Learn More »
Dr. Perlmutter works innovatively with a wide variety of neurological and nutritional issues and preventive medicine, including helping adults and children overcome learning problems.
This  makes him a hero in my eyes, as I have been helping adults and children triumph over learning difficulties for more than 30 years now.
Thank you, Dr. Perlmutter, for inspiring hope for children and parents and others!
Doc Meek, Wednesday, November 24, 2010, at the Super 8 Motel in Dania Beach, Florida (on the east coast of Florida, opposite Dr. Perlmutter's office on the west coast at Naples).
J. Collins Meek, Ph.D. (Doc Meek)
"What if you are smarter than you think?"
Learning Specialist https://docmeek.com
For brain health, ensure heart health (short video):
http://www.amiraclemolecule.com/themeekteam
More on heart health http://www.themeekteam.info
Ph (801) 971-1812 (Jeannette); Fax [801] 282-6026
THE LEARNING CLINIC WORLDWIDE, INC.
CANADA: P.O. Box 3105, Sherwood Park, AB T8H 2T1
TONGA: Mele Taumoepeau, P.O. Box 60, Nuku'alofa
USA: 3688 W 9800 S, #138, South Jordan, UT 84095
=======================================
I am very grateful to Pat Wyman for her guest article below. – Doc Meek
Best Selling Author, Learning vs.Testing
America's Most Trusted Learning Expert
Pat Wyman, California State University, East Bay, is famous in her own time.  She is a learning expert who knows what she is talking about. More importantly, you can trust her, and thus have real confidence in what she says will help your child — or anyone — learn better and more easily.  – Doc Meek …………………………………………………………………………………………………………….
Instant Learning Strategies®: The Top Five Secrets You Need to Learn Anything Fast
By Pat Wyman
In your ever-busy, "on demand" life, have you ever wondered how it would feel to be able to learn twice as much in half the time? Life changes in an instant, so here is a proven, Instant Learning® formula that will give you the learning edge you need.
Whether you are a CEO, an employee in job training, a student, or a parent, did you know that a baby learning to walk uses the same techniques that are key to your Instant Learning® ability? The baby practices but really learns to walk in an "instant" once he unlocks the code I share in my Instant Learning® seminars—"learning is not about being smart; it's about strategy!"
Curious? Read on, put your eyebrows on relax, and you will remember everything you read in this chapter. Here are five proven strategies that neuroscientists, psychologists, and learning experts say anyone can use to confidently learn anything new. I call this Instant Learning® formula BBAPI.
1. Belief
You already believe that you can learn in an instant because you've been doing it your whole life. When you were younger, you learned thousands of new things, firm in the belief that you would succeed. You simply tried new strategies until you mastered the task. As Henry Ford said, "If you think you can do a thing, or think you can't do a thing, you're right."
Right now, give yourself permission to believe that you can learn anything based solely on the information you receive from your actions. Adjust your learning strategies as you read this chapter, and do things differently until you get the result you want. Remember, your belief and strategies together are so strong that they inspire the highest vision of what is possible.
2.  Body
Your body movements are a reflection of what is going on in your brain. If you lie on the couch in a dimly lit room and say self-defeating things to yourself while deciding that you're going to learn something new, you will simply end up on the couch. This is information that you're not highly motivated to learn anything new.
Do this: change your body position as if you are perfectly successful and record how you feel. When you are ready to learn something new, put yourself into your "success position." Next, do what experts do with their bodies: I call it "Brain Smart, Body Smart™." Make sure you get any "body or brain" roadblocks to learning out of the way. Have your eyes checked by a developmental optometrist to make sure that you see the printed page the same way others do; make sure you are hearing properly; exercise, love your body enough to put nourishing foods into it, and explore why supplements like omega 3s, which are proven to help you think faster and remember longer, are the very best strategies to enhance your body and brain.
3.  Association
Have you ever met someone and liked them right away, even though you did not actually know the person? The reason is called association, which neuroscientists say is created from connections in your brain that remind you of someone else you already know and like.
To make learning faster, connect it with something you already know because your brain craves patterns. To cement the learning, add more connections like humor, uniqueness, emotion, and visual, auditory, and tactile modalities. Psychologists report that you can learn something new the very first time, if the associations you make along with it are strong enough. When I teach medical students how to recall complicated medical terms, we use humorous letters, pictures, and words connected with things they already know. Their learning is stress-free and virtually "instant"!
4.  Pictures
Have you ever read sections of a book and then forgot what you just read? After you see a movie, do you notice that it seems easier to remember the pictures?
Picture recall has much more meaning across many parts of the brain, so the saying "one picture is worth a thousand words" really is true. Whenever you are reading something new, put your body into success position and become a filmmaker in your mind. Read something, look up, and make a movie from the words. Then, add your own, personalized version of something familiar in your picture. Connect the two images, and when you look up at your images again, you'll easily be able to learn and remember whatever you want. This is called the eye-brain connection.
5.  Input, Storage, and Output Need to be Matched

If you wanted to find out whether a baseball player had the skills to make the team, would you give the person a written test? Sounds silly, but the mismatch between learning and testing styles is a major reason people wonder about whether they can learn new things.
One of the best-kept learning secrets that you'll never hear in school is how to match learning styles with testing styles for effortless learning. Discover your preferred learning style (visual, auditory, or tactile), and ask yourself what style will be used to test your knowledge. Match your learning style (input), memory style (storage), and testing style (output), and learning becomes a breeze.
Remember, learning is not about being smart. It is only about strategy, and once you know the strategies, you can choose to learn anything at any time. Learning how to learn is your key to Instant Learning® for a lifetime of learning success.
For your FREE Personal Learning Styles Inventory, and your 4 FREE chapters of my immediately downloadable eBook, Instant Learning® for Amazing Grades, go to:  www.howtolearn.com/amazinggrades.html
– Pat Wyman ………………………………………………………………………………………..
Thank you, Pat!
Doc Meek, Thursday, July 29, 2010, at South Jordan, Utah, USA ——————————-
J. Collins Meek, Ph.D. (Doc Meek)
"What if you are smarter than you think?"
Learning Specialist https://docmeek.com
For brain health, ensure heart health (short video):
http://www.amiraclemolecule.com/themeekteam
More on heart health http://www.themeekteam.info
Ph (801) 971-1812 (Jeannette); Fax [801] 282-6026
THE LEARNING CLINIC WORLDWIDE, INC.
CANADA: P.O. Box 3105, Sherwood Park, AB T8H 2T1
TONGA: Mele Taumoepeau, P.O. Box 60, Nuku'alofa
USA: 3688 W 9800 S, #138, South Jordan, UT 84095
.